Each February at the AGM, WDPS presents its priorities for the coming year. These are the activities and issues on which WDPS plans to concentrate its efforts while at the same time trying to identify any unexpected opportunities and threats that may require more urgent attention. The current priorities are the ones listed below.
They are all aimed at Keeping Wheathampstead Wonderful.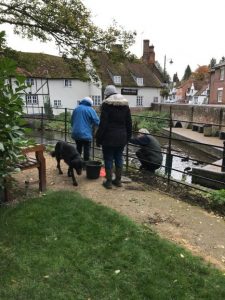 Maintenance of the Diamond Jubilee Garden
Left.  WDPS volunteers at work in the Diamond Jubilee Garden
Maintenance of  Bury Green Garden 
Looking into further opportunities to make better use of land (especially publicly owned land) with a view to creating gardens or points of interest. This follows on from our work at Diamond Jubilee Garden and Bury Green Garden.
Reviewing local planning applications and objecting to any that represent inappropriate development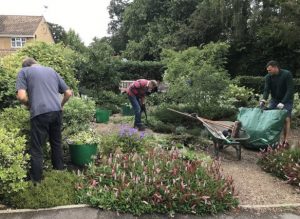 Creating new Christmas cards and a 2021 Calendar, both featuring pictures of Wheathampstead
Working with Annie Brewster to consider opportunities for enhancing the character of Marford Road roundabout and Station Road roundabout
Continuing our regular sign-cleaning activities around the village
Planting more bulbs at strategic sites around the village
Completing our work in East Lane car park by painting the youth shelter
Working with other organisations in Wheathampstead to create membership packs for new residents.